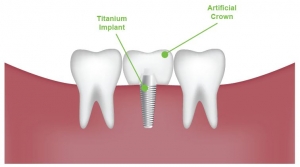 Do you have a tooth loss condition? Do you wish to have a more permanent solution than using removable dentures to replace your missing teeth? Whereas dentists used to provide either a removable bridge or denture as a de facto standard, dental implants have more recently been winning the hearts of edentulous patients as the modern option to restore beauty and function to their missing teeth.
Over the last couple of decades, dental implants have grown to be globally accepted as an effective restorative treatment quite simply because they work as advertised. Modern advances in dental technology have given us a stable, durable and aesthetic option that goes right into the "root" of the tooth loss problem.
Dental implants are small titanium posts strategically placed into the jawbones of patients to serve as root-level anchors for the mounting of prosthetic teeth. The implants and jawbone are biologically fused together to create a solid support structure that delivers unprecedented stability and durability. More importantly, to patients, they feel and look like natural teeth.
As the dental technique grows in popularity and acclaim, the number of practitioners offering dental implants as a restorative option has risen in tandem. As in any burgeoning yet relatively nascent field, there are highly experienced dentists who are versed in performing a variety of implant procedures, as opposed to others who are still relatively new to implant techniques – although many of them may be experienced general practitioners.
It is fair to assume then that each of them would possess differing levels of knowledge, skills, confidence and competence to perform the complex implant surgical procedures. Although dental implants enjoy a high rate of success (in the upper 90 percentile range) across the board, results still vary in terms of aesthetic and functional quality. For any dental work that involves surgery, there is always a measure of risk involved.
In the enlightened circumstance, patients should choose their implant dentist carefully. Whether through asking other patients in dental forums or reviewing the dentists' credentials on their websites, it is not uncommon for patients to research the background of a dentist before making an informed decision. Do not brush off the accreditations or certifications that a dentist has earned as mere paper qualifications. These documents reveal the extent of accredited training that your dentist has received for this particular field. In the case of implants, they also translate into the number of hands-on training time your dentist has invested in.
There is of course no substitute for actual patient hours when it comes to acquiring implant experience. An experienced dentist will be in a much stronger position to handle a dental crisis or difficult case. In emergency situations, the ability to quickly adapt in a calm and professional manner is a highly prized one. As you can imagine, there is usually very little room for mistakes.
Last but not least, professionalism is key. You will need a dentist with the competence and professionalism to take care of your implant procedure from start to finish. This extends all the way from initial consultation to the surgical procedure to final fitting of the crown and bridge. Having a dedicated implant expert at every stage of the process would ensure a seamless workflow – that reduces miscommunication and fosters optimum results.
If you are considering dental implants as a teeth replacement option, you can take advantage of Dr Mark Sinclair's wealth of implant experience and his crack dental implant team at Sydney CBD Dental. Dr Mark Sinclair is a veteran lead practitioner with over 30 years of experience. For more information on the implant services that Sydney CBD Dental provides, contact the team at 02 9051 0503.