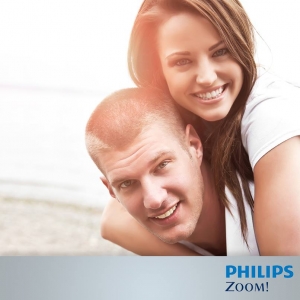 If you're a heavy smoker or Starbucks regular, you may be experiencing some form of teeth discolouration from the stain-causing substances found in cigarettes as well as coffee and tea. In fact, many types of food and beverages that we consume daily can make our teeth look yellow or brownish. Thankfully, there are many teeth whitening methods available today that can help restore the pristine whiteness of our teeth's original colour. The Phillips Zoom Teeth Whitening System is certainly one of the most effective methods out there. Arrange your appointment by calling our Sydney CBD team on (02) 9232 3900 and see if zoom teeth whitening is suitable for you!
What is Zoom Teeth Whitening?
Teeth Whitening At Sydney CBD Dental
This is a revolutionary in-office whitening system that has few rivals when it comes to speed and effectiveness. Employing a 32% Hydrogen Peroxide light-activated gel – with a pH range between 7.5 and 8.5 – the whitening system is able to achieve rapid results with a safe and simple procedure. A metal halide light (aka Zoom light) is used to activate the hydrogen peroxide and enhance the whitening results – by deeply penetrating and bleaching the discoloured enamel and dentin.
If you have been using over-the-counter teeth whitening products, you may have found them time-consuming in application while under-delivering in terms of results. On the contrary, the Phillips Zoom treatment is remarkably comfortable. Yet it is possible to achieve visible shade reductions in just three short sessions – within a one-hour visit to your dentist's office.
It is important to note, however, that teeth whitening results can vary according to the specific condition of the patient. The extent of shade reduction may be influenced by the existing colour of your teeth and any underlying dental conditions you may have. The dentist will assess your current dental health status with an initial oral check-up to determine if teeth whitening is suitable for you.

Philips Zoom Teeth Whitening For Only $500!
When your teeth become discoloured, it can give you an older appearance than you really are. Whether justified or otherwise, most people associate stained teeth with poor oral hygiene or a lack of personal grooming. Teeth whitening may be the answer to reduce or eradicate these unsavoury perceptions while restoring brightness to your teeth.
Sydney CBD Dental is offering the revolutionary Phillips Zoom Whitening treatment for only $500. With this amazing offer, you can enhance your smile without breaking the bank. Not only does the Zoom Whitening system offer one of the least invasive methods available to enhance the overall beauty and radiance of your smile, this laser whitening treatment is also one of the fastest and most effective in the world of cosmetic dentistry!
All you need to do is recline on our comfortable dental chair and let the dentist work on removing the stubborn stains on your teeth. Administered by our team of experienced Dentists, the safe and fast Zoom protocols lets you undergo the treatment without any pain or discomfort. The laser treatment also promises long-lasting results. With appropriate dental care, you can look forward to a brighter smile for months, and even years, to come.
Although some patients experience tooth sensitivity for one or two days following the procedure, the Zoom system has practically no side effects. For optimum results, we recommend repeating the whitening treatments every two to three years.
If you want a beautiful and bright smile without paying a fortune for it, check out this amazing offer on Phillips Zoom Teeth Whitening. To take advantage of our $500 Laser Whitening offer, call Sydney CBD Dental at (02) 9232 3900.
Quick Links: